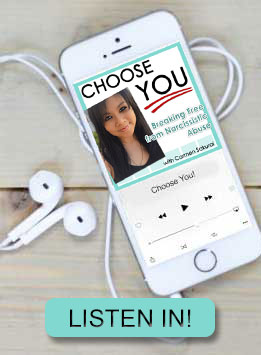 We're Talking About:
I'm frequently asked by survivors if instead of going no contact, they should try and understand the hows and whys the narcissist in their life became that way… and if they should stick around to give the narcissist the love, compassion, and patience they seem to lack in their lives.
Come Join the Discussion
Was this Show Helpful?
Please leave me a quick review on iTunes. Sharing what you like about this podcast helps other survivors who are looking for validation, facts, solutions, & support find us… not to mention how much I appreciate reading your feedback! Thank you!
Subscribe to Choose You:
I invite you to subscribe to my podcast! You'll receive new episodes as they're posted… plus, you'll gain access to all upcoming bonus episodes including interviews with experts in the field and survivors stepping up to share their stories! You can subscribe via iTunes or by adding my RSS Link to your favorite podcast app!
Submit Your NPD Questions:
Do you have questions you want answered on an upcoming "Q & A Tuesdays" episode about NPD and recovering from narcissistic abuse? Send me a message at dearcarmen@carmensakurai.com.
Tools & Resources from This Episode:
Join Our Survivor Group
xoxo